Lighting lab
The Light Emitting Diode (LED), the primary solid-state lighting technology, has been tapped by scientist, government agencies and energy-efficiency organizations as the next-generation light source for general illumination in homes, offices and outdoor environment. Although solid-state lighting technology may not yet be ready for widespread general lighting use, each incremental improvement in its development opens doors to more applications where it can replace less efficient light source.
The Centre for IT in Building Science (CBS), IIITH had setup light testing laboratory with latest instrumentation vis-e-vis Integrating Sphere, WT333 power meter, CL500 Illuminance Spectrophotometer, Standard Photometric Light Source fixtures, etc.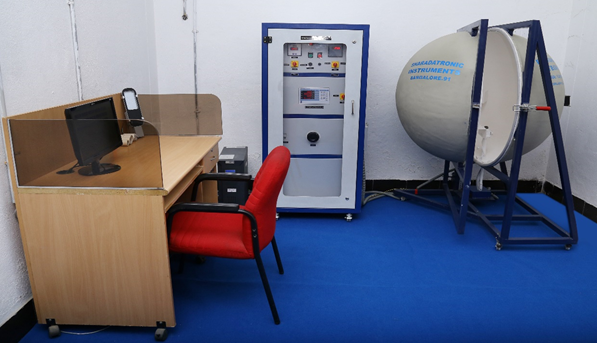 1.1.1 Konica Minolta Illuminance Meter T-10A
Features:
Easy to use – simple, multi-function operation, with keypad cover to avoid accidental operation

Automatic Calibration – automatically adjusts to zero at powering on for immediate measurement

Auto-range functions – enables the instrument to have the ability to measure a wide range, automatic or manual setting

LCD screen – backlit, LCD screen displays average values, illumination, comparison of illuminance values

Portable – small, compact, and powered by AA-size batteries

Versatile – also has the ability to measure flickering light

Interface with computer changed from RS-232C to USB

Measurement of PWM-controlled light sources
1.1.2 Konica Minolta Luminance Meter LS-100
Features:
Portable

– lightweight, compact, and battery powered

One of the best on the market

– categorized in the upper range of the DIN quality class B

SLR (single lens reflex)

– allows precise targeting, ensures viewfinder shows the exact area to measure

Small diameter measurements

– can measure as small as 0.4mm

LCD and viewfinder displays

– measurement results are shown in both places, viewfinder display makes it easy to focus on target

N

eutral density eyepiece filter

– allows measurements of strong light sources

Grip

– pistol grip design enables the user to stably hold the instrument

Measure dark surfaces

– range starts at 0.001cd/m2

User calibration and color correction

– corrects the differences for a specified light source

Three settings

– instantaneous luminance, peak luminance, and luminance ratio

PC connections

– send measurement data and receive control signals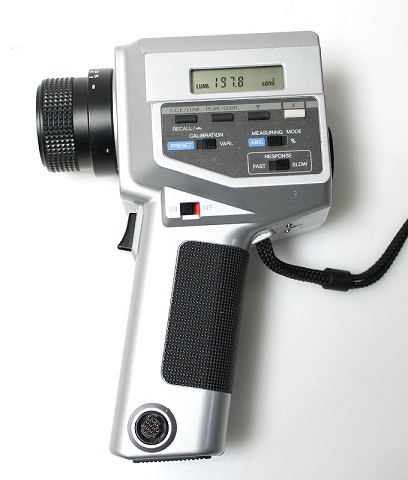 1.1.3 LICOR Lux Meter
Features:
Accuracy:

25 °C: Typically ± 0.4% of reading ± 3 counts on the least significant digit displayed (all ranges).

0 – 55 °C: Typically ± 0.6% of reading ± 3 counts on the least significant digit displayed (all ranges).

Linearity: ± 0.05%.

Sensors: Designed for type "SA" sensors; type "SB" and "SL" sensors with BNC connectors

Signal Averaging: Sensor output can be collected and displayed as a 15-second average (approximately 60 readings). Averages are retained on the display in HOLD mode.

Display: Updated every 0.5 seconds in Instantaneous mode.

Battery Life: 150 hours typical with continuous operation.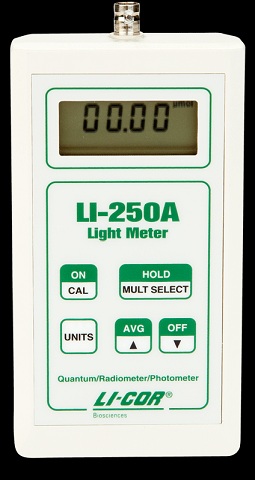 1.1.4 Illuminance Spectrophotometer CL-500A
Features:
Spectral wavelength range 360 to 780 nm

Output wavelength pitch 1 nm

Spectral bandwidth Approx. 10 nm (half bandwidth)

Wavelength precision +-0.3 nm (Median wavelengths of 435.8 nm, 546.1 nm, and 585.3 nm*2 as specified in JIS Z 8724)*3

Measuring range 0.1 to 100,000 lx (chromaticity display requires 5 lx or more)

Accuracy *4, 5 (Standard illuminants A) Ev (Illuminance) : +-2%+-1 digit of displayed value xy: +-0.0015 (10 to 100,000 lx), xy: +-0.002 (5 to 10 lx)

Repeatability (2 sigma;) (Standard illuminant A) Ev: 0.5% + 1 digit xy: .0005 (500 to 100,000 lx), xy: .001 (100 to 500 lx), xy: .002 (30 to 100 lx), xy: 0.004 (5 to 30 lx)

Visible-region relative spectral response characteristics (f) Within 1.5% of spectral luminous efficiency V ( λ)

Cosine response (f2) Ev: Within 3% Temperature drift (fT) Ev: +-3% of displayed value; xy: +-0.003 Humidity drift (fH) Ev: +-3% of displayed value; xy: +-0.003

Measurement time Super Fast mode: Approx. 0.2 sec. (when connected to computer);Fast mode: Approx. 0.5 sec.; Slow mode: Approx. 2.5 sec.;

Automatic exposure time setting (high accuracy) mode: Approx. 0.5 to 27 sec.

Color indication modes XYZ; X10Y10Z10; Evxy; Ev; Ev;

Dominant wavelength, Excitation purity;

Correlated color temperature, Delta;uv;

General color-rendering index (Ra); Special color-rendering indexes (Ri (i=1~15)); Spectral graph;

Peak wavelength; Delta(XYZ);Delta(X10Y10Z10);Delta (Evxy);Delta (Ev); Rank display; Scotopic illuminance; S/P ratio; Spectral irradiance.