14th International Conference of IBPSA
BUILDING SIMULATION 2015
The BS2015 Conference held in Hyderabad from December 7-9, 2016 was the 14th conference of IBPSA.  This conference is a biennial conference that was held in India for the first time and saw an attendance of around 400 delegates from 45 countries. The previous conference was held in Chambery, France in the year 2013.
The conference was organized by IIIT Hyderabad and received tremendous support from the following organisations MNIT, CII, IGBC, ASHRAE, ISHRAE, ASCI, Glass Academy, and TIE. The conference had sponsorship from Autodesk (Platinum), DOE (Gold), Saint Gobain (Silver) and Cradle (Bronze).
This three-day conference witnessed various paper presentations and keynote speeches followed by a cultural show during the banquet dinner. The following dignitaries addressed the delegates during the inaugural ceremony – the IBPSA President, IT Secretary of the State Government, Executive Director of CII-IGBC, and the CII Telangana President.
There were keynote speeches by Prof.Godfried Augenbroe and Mr.Padu S. Padmanaban.
A total of 998 abstracts were received of which 958 were accepted. There were 388 papers and posters presented during 67 parallel technical sessions. During the awards session, various awards for IBPSA Fellows, Student Travel Awards, Best Paper awards, and Student modelling competition were presented. There were nine workshops conducted on different software tools pre and post conference. The full day workshops covered training on DesignBuilder, OpenStudio, Simergy, Urbawind, Compliance modelling for ECBC, Design and simulation of Radiant Cooling systems, CFD for indoor and outdoor analysis and energy optimisation with simulation. The full day workshops conducted by expert trainers were attended by about 200 participants. There were exhibition stalls on display by IES, Contravolts, Taylor and Francis and Equa. Autodesk and Saint Gobain also gave a technical presentation during the conference.
There were two informal sessions during the conference, which were the Welcome Party and the Banquet dinner. The Banquet dinner witnessed Bharatanatyam dance performance and Carnatic musical performance. Stalls displaying the local art of Warli, pottery, bangle making, rice art etc were also organised.
Conference Theme and Paper Topics
  

Advanced building simulation

  

Building information modelling

  

Building physics

  

CFD and air flow in buildings

  

Climate and microclimate

  

Energy storage

  

Human aspects in simulation

  

HVAC equipment

  

Indoor air quality and thermal comfort

  

Modelling for passive buildings

  

Net zero buildings

  

New software development

  

Optimization

  

Simulation and real performance

  

Simulation for commissioning, control and monitoring

  

Simulation in fault detection and diagnostics

  

Solar energy utilization

  

Teaching modelling and simulation

  

Validation, calibration and uncertainty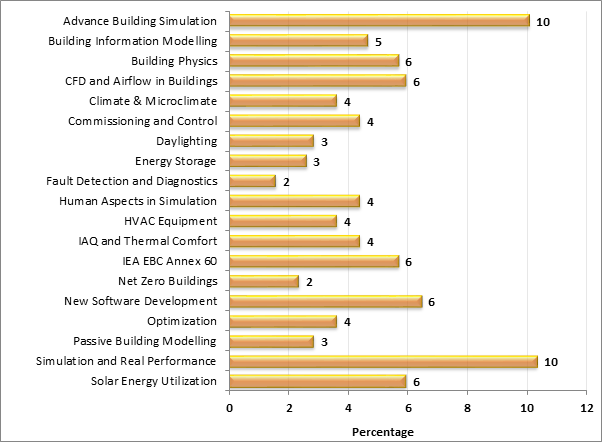 Registration Details
| | |
| --- | --- |
| International Registrations | |
| Member & Speaker | 171 |
| Non Member | 36 |
| Student | 131 |
| | |
| Indian Registrations | |
| Member & Speaker | 23 |
| Non Member | 21 |
| Student | 14 |

The registration fee for all categories was:
Category
Early Bird Fee *
Regular Fee(post 30th Sept'15)*
Indian Participants
IBPSA Member
₹16,440
₹ 18,872.00
IBPSA Non-member
₹18,790
₹ 20,053.00
Student
₹11,745
₹ 14,152.00
Accompanying Person
₹17,615
₹ 17,692.00
International Participants
IBPSA Member
₹42,275
₹ 47,176.00
IBPSA Non-member
₹46,970
₹ 49,536.00
Student
₹29,355
₹ 33,024.00
Accompanying Person
₹17,615
₹ 17,692.00
Cultural Events
There were two cultural events during the conference. The first was the Welcome Party hosted the evening before the start of the conference and the second was the banquet dinner on Day 2 of the conference.
The Welcome party was a cocktail party. The selection of live music performed during the cocktail party was a fusion of western and Indian music to suit the western audience and yet retain the flavour of Indian music.
The cultural programs during the banquet dinner were designed to showcase the Indian traditional dance and art forms to the international audience. There was a Bharatanatyam dance performance, a Dandiya performance in which the delegates were encouraged to learn a few steps and participate. There was also a Carnatic vocal recital, with the Violin and the Mrudangam in accompaniment.
Stalls displaying the local art of Warli, pottery, bangle making, rice grain art and puppet show were organised. The delegates were given canvas and encouraged to paint the simple art of warli and take it as a souvenir with them. Bangles, pots, key chains with rice grain art and warli were made on the spot and presented to the delegates to be taken as mementos.
Some Photographs from the conference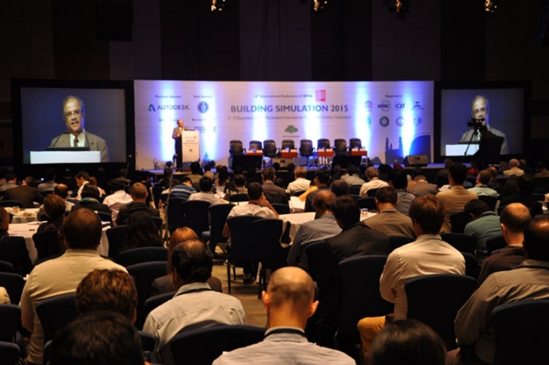 Keynote-Mr.Padu S Padmanaban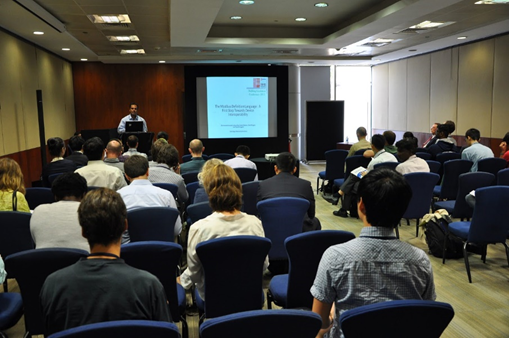 Paper Presentations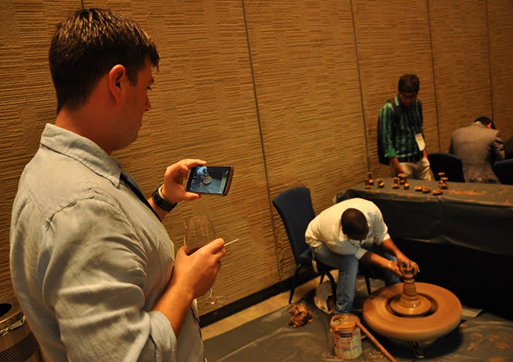 Pottery during banquet dinner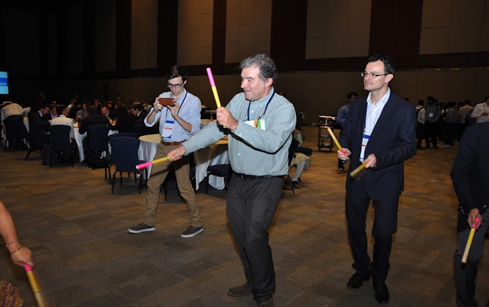 Dandiya during Banquet Dinner