Automation lab
The aim of the lab is to develop and field test integrated communications and control technologies across building systems. Systems include advanced lighting, HVAC, and plug-load controls that: minimize energy use; respond to changes in occupancy and environmental factors; improve their functionality, reliability, and operational insight; integrate sensor data across building systems & enhance occupant comfort. The lab also developed a plug-load controller, Smart Strip, for ubiquitous sensing and control of building loads.
1.1         Following are the instruments available at lab:
1.1.1 34970A Data Acquisition / Data Logger Switch Unit
Features:
3-slot mainframe with built-in GPIB and RS232 interfaces

6 1/2-digit (22-bit) internal DMM, scanning up to 250 channels per second

8 switch and control plug-in modules to choose from

Built-in signal conditioning measures thermocouples, RTDs and thermistors, ac/dc volts and current; resistance; frequency and period.

50k readings of non-volatile memory holds data when power is removed

Hi/LO alarm limits on each channel, plus 4 TTL alarm outputs

Free BenchLink data logger software to create tests without programming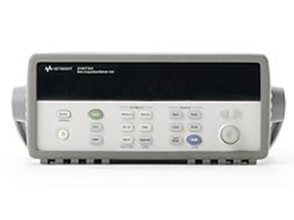 1.1.2 NI cDAQ-9184 NI CompactDAQ 4-Slot Ethernet Chassis  
Features:
Choose from more than 50 hot-swappable I/O modules with integrated signal conditioning




•

Measure up to 128 channels of electrical, physical, mechanical, or acoustic signals

 
1.1.3 NI myRIO
Features:
The myRIO is an Embedded Development platform.

It includes analog inputs, analog outputs, digital I/O lines, LEDs, a push button, an

Onboard accelerometer,

A Xilinx FPGA, and

A dual‐core ARM Cortex‐A9 processor.

Also include WiFi support.

You can program the myRIO Student Embedded Device with LabVIEW or C.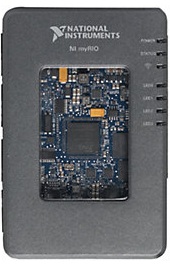 1.1.4 NI USB multifunctional I/O device
Features:
It has 8 Analog Input with 12 Bit, 1 kS/s resolution

2 Analog Output with 150 Hz output frequency capability

12 Digital Input and Output.

It is a low cost multifunctional DAQ device. It has both Digital and Analog I/O and a 32 bit counter. It can be used for simple data logging.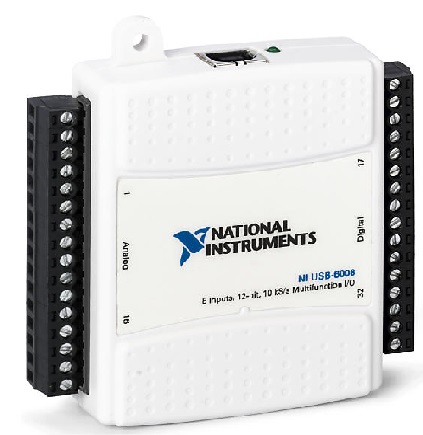 1.1.5 Agilent  U8032A Triple Output DC Power Supply
Feature:
60V/3A (2x) & 5V/3A; 375W,

excellent load and line regulation (CV: < 0.01% + 2 mV; CC: <0.02% + 2 mA)

Fast transient response < 50 µsec with Low output noise ≤ 1 mV

rms

(0.5 mV

rms

typical) and ≤ 1 mA

rms

from 20Hz to 20MHz.\

Fully integrated OVP and OCP.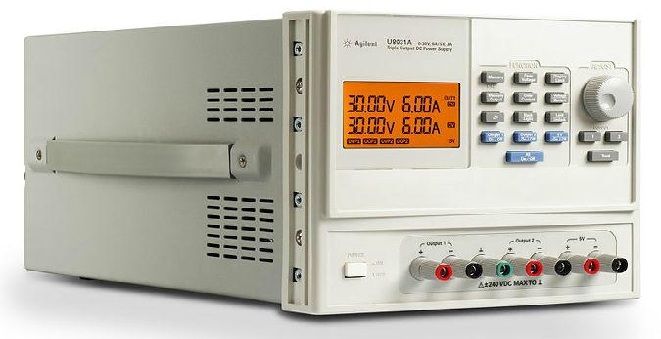 1.1.6  DC Electronic Load Mainframe N3301A 600 Watt with 300 Watt Load
The Dc Electronic load Mainframe N3301A is used for the measurement and testing of the power supplies and DC-Dc converters. With this simultaneously all outputs can be measured. Along with multiple single output power sources can be also tested.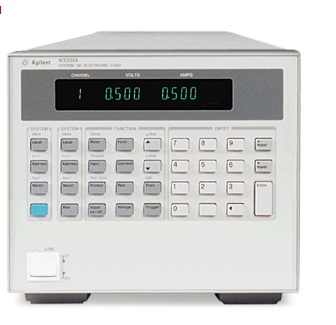 1.1.7  Agilent Desktoptop Digital Multimeter
Features:
The multimeter has 6½ digit resolution

10 measurement functions: DC/AC voltage, DC/AC current, 2- and 4-wire resistance, diode, continuity, frequency, period.

An accuracy of 0.0035% DC, 0.06% AC 1000V max voltage input, 3A max current input.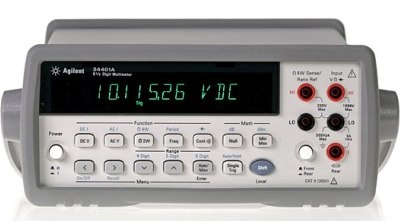 1.1.8  Weller rework station
The WXR 3 Rework station is able to perform all tasks related to soldering, desoldering, and hot air in one multifunctional station. The WXR 3, includes soldering irons, preheating plates, desoldering tools or solder baths. 2 integrated pumps make the system independent of a separate compressed air supply: A high-performance pump for vacuum and hot air and a separate vacuum pump for pick-up tools.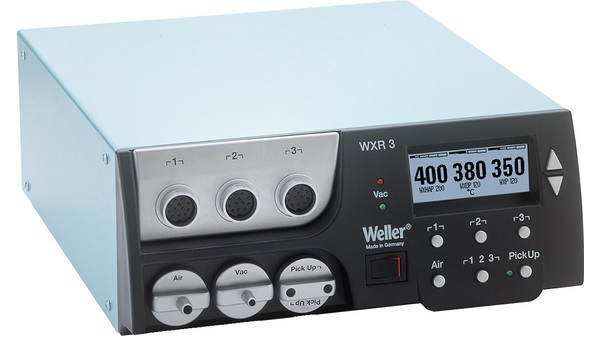 1.1.9 Keysight DSOX2024A Oscilloscope
Feature:
200 MHz,

4 channel, Oscilloscope

2 GHz/S sampling rate.

Built-in 20MHz Function Generator,

5 digit counter,  and

3 digit digital multimeter.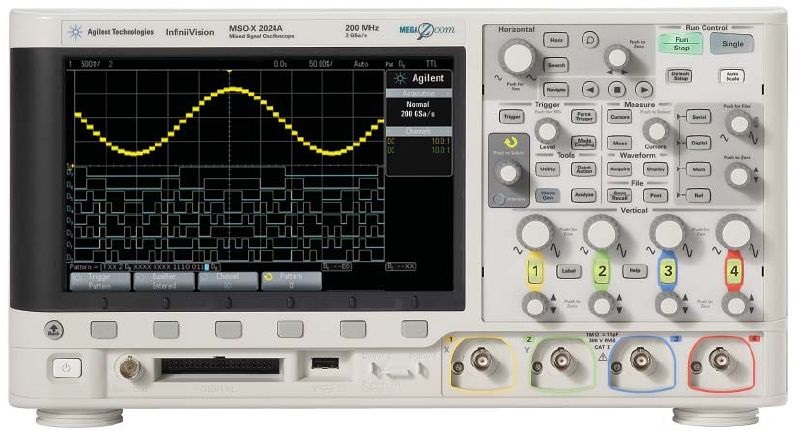 1.1.10 Agilent Function Generator 33500B
33500B Series waveform generators with exclusive Trueform signal generation technology offer more capability, fidelity and flexibility than traditional DDS generators.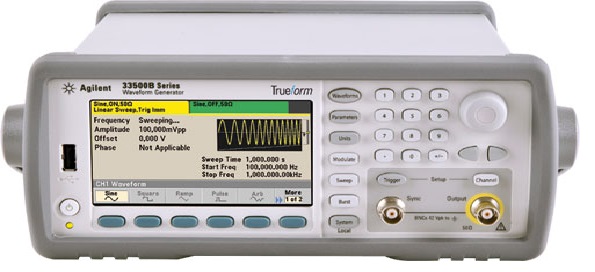 1.1.11 Cypress PowerLine Communication Development tool
The CY 3272 High Voltage Powerline Communication Evaluation Kit demonstrates the ability of CY8CPLC10 devices to transmit data at 2400 bps over High Voltage (110-240V AC) Power Lines.
It has On-chip powerline bridge application layer, powerline network protocol layer, and physical layer FSK modem and the Chip power supply derived from 110V to 240V AC.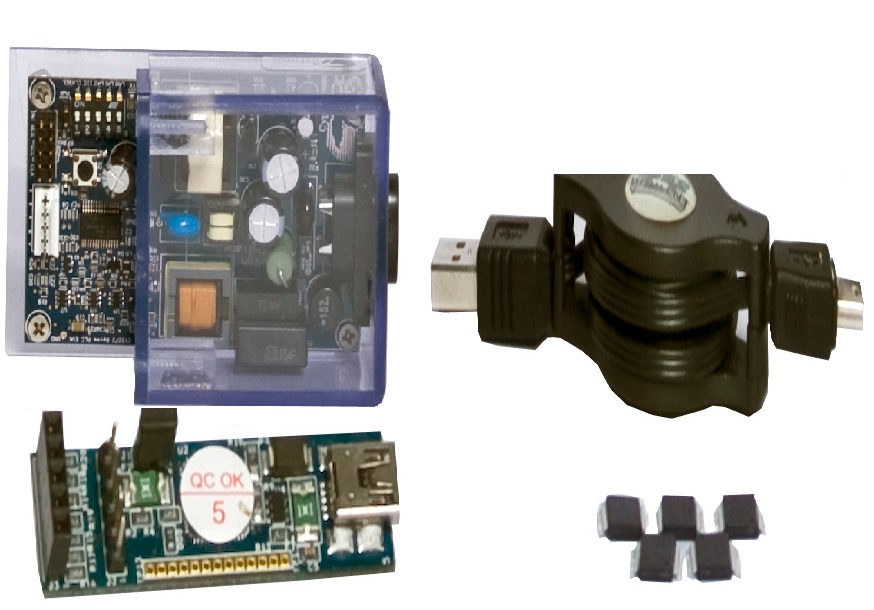 1.1.11    NI ELVIS II, NI ELVIS II+ Modular Engineering Educational Laboratory Platform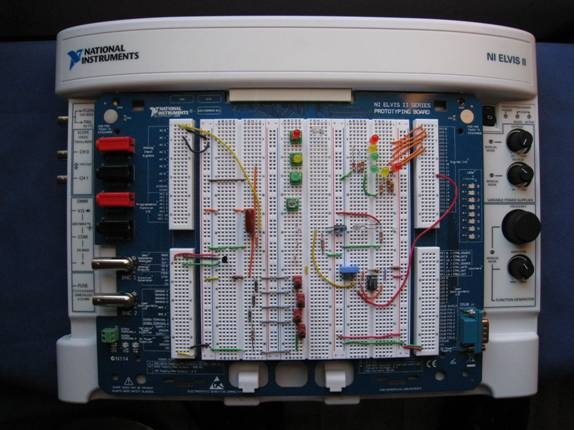 1.1.12   Power Quality Clamp Meter – Fluke 345
The ideal meter for commissioning and troubleshooting modern electrical loads to analyze the harmonic spectrum, a low-pass filter to remove high frequency noise, and a high EMC immunity design, the Fluke 345 is ideal for
measurements on switching loads such as variable frequency drives, electronic lighting and UPS systems. Additionally, the Hall Effect measurement system makes measurement of dc current possible without the need to break the circuit, and the internal memory enables long-term logging for analysis of trends or intermittent problems.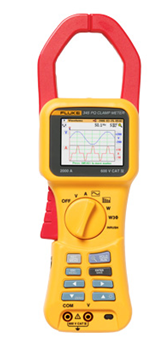 1.1.13     Fluke Ti125 Industrial-Commercial Thermal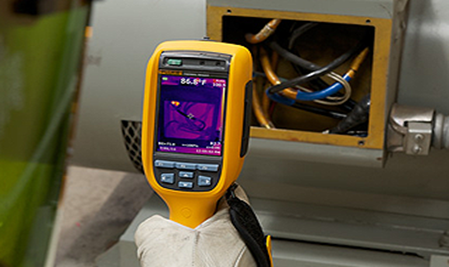 1.1.14    CMA 6 Albedometer
An Albedometer consists of two pyranometers. The upper sensor measures incoming global solar radiation and the lower sensor measures solar radiation reflected from the surface
below. When the two signal outputs have been converted to irradiance in W/m², the albedo can be simply calculated.
The Specification as following:
Spectral range (50% points)

285 to 2800 nm

Sensitivity

5 to 20 µV/W/m²




Response time

< 18 s

Zero offset A

< 10 W/m²

Zero offset B

< 5 W/m²

Temperature dependence of sensitivity (-40 °C to +70 °C)

< 20 %

Temperature dependence of sensitivity (-10 ºC to +40 ºC)

< 4 %

Operating temperature

-40 to +80 °C

Maximum solar irradiance

2000 W/m²

Field of view

180 °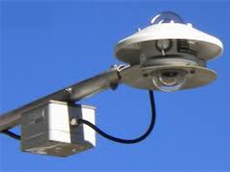 1.1.15  Testo 480 – High-end VAC measuring instrument.
It is High precision digital Air flow and volume flow(also fume cupboard measurements), Temperature, Humidity, Pressure (difference and absolute pressure), CO2, Illumination intensity, PMV/PPD measurement instrument.

1.1.16 U30 USB Weather Station Data Logger.
Features:
HOBO U30-NRC Weather Station, use up to 15 channels to collect environmental data and then upload to HOBOware® software for analysis.
It can perform measurements for 4-20mA, AC Current, AC Voltage, Air Velocity, Amp Hour (Ah), Amps (A), Barometric Pressure, Carbon Dioxide, Compressed Air Flow, DC Current, DC Voltage, Differential Pressure, Gauge Pressure, Kilowatt Hours (kWh), Kilowatts (kW), Leaf Wetness, Light Intensity, Power Factor (PF), Pulse Input, Rainfall, Relative Humidity, Soil Moisture, Temperature, Volatile Organic Comp., Volt-Amp Reactive, Volt-Amp Reactive hour, Volt-Amps (VA), Volts (V), Water Flow, Water Level, Watt Hours (Wh), Watts (W) and Wind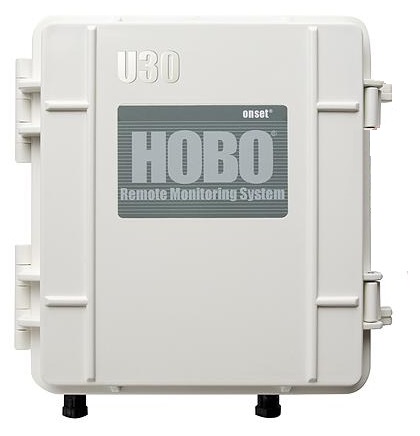 1.1.17    Testo 815 – Sound level meter.
The testo 815 sound level meter can be used for control measurements in the air conditioning and heating area, on combustion systems or at workplaces. It can also enable quick and precise assessment of machinery and discotheque noise.
Applications of the testo 815 sound level meter
Heating technology: measurement of the volume of burners Industry and trade: measurement of machinery noise. Event technology or public authorities: noise levels at events Building services: simple measurements by the caretaker when there are complaints.

1.1.18    CR1000 Measurement and Control Data logger.
Features:
16-bit cpu with 32-bit internal core running at 7.3 MHz

2MB of flash for operating system; 4MB of battery-backed SRAM for CPU usage and final data
           storage; 512 kB flash disk (CPU) for program files.
8 differential (DF) or 16 single-ended (SE) individually configured input channels. Channel expansion provided by optional analog multiplexers.RANGES and RESOLUTION: Basic resolution (Basic Res)

is the A/D resolution of a single A/D conversion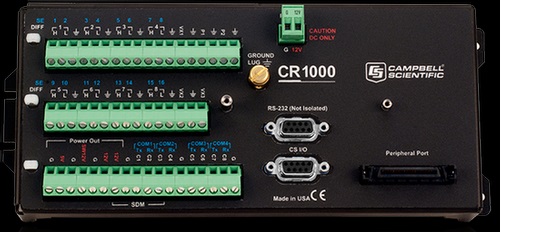 1.1.19 CR6 Measurement and Control Datalogger
Features:
CPU: 32 bit with hardware FPU, running at 100 MHz

Internal Memory: 4 MB SRAM for data storage, 1 MB flash for program, 6 MB for OS

Micro SD Drive for extended data storage up to 16 GB

Clock Accuracy: ±3 min per year, optional GPS correction to 10 µs

USB micro B for direct connection to PC (limited power source during configuration), 2.0 full speed, 12 Mbps

10/100 Ethernet RJ-45 for LAN connection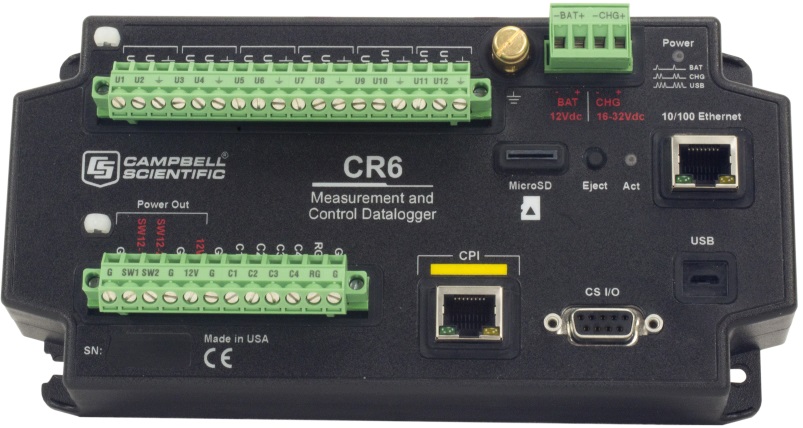 1.1.20    Yokogawa WT330 Series Digital Power Meter.
The WT300's wide range of functions and enhanced specifications allows to handle all the measurement applications from low-frequency to high frequency inverters using a single power meter.The WT300 series with the fast display and update rate of Max. 100ms offers the customer a short tact time in their testing procedure.
Features:
The basic accuracy for all input ranges is 0.1% rdg + 0.1% rng (50/60Hz)

DC 0.1% rdg + 0.2% rng (0.2% + 0.2% for 40A).

Can perform a Simultaneous Measurement of voltage, Current, power, Frequency, Harmonic components, total harmonic distortion with a maximum cycle of 100ms.
1.1.21 Fluke Process Calibrator 726 Precision MultiFunction Calibrator
Features:
More precise measurement and calibration source performance, accuracies of 0.01%.

Two separate channels; measure, source and view process signals simultaneously

Measure volts, mA, RTDs, thermocouples, frequency, and resistance to test sensors and transmitters

Source/simulate volts, mA, thermocouples, RTDs, frequency, and pressure to calibrate transmitters

Source mA with simultaneous pressure measurement to conduct valve and I/P tests

Integrated pressure switch test allows you to capture the set, reset and deadband of a switch

Memory storage for up to 8 calibration results, return stored calibration data from the field for later analysis

Transmitter error% calculation, interpret calibration results without a calculator

Perform fast linearity tests with auto step and auto ramp features

Power transmitters during test using 24 V loop supply and simultaneous mA measurement

HART mode inserts 250 ohm resistor in mA measure and source for compatibility with HART instrumentation

Custom RTD curves, add calibration constants for certified RTD probes for enhanced temperature measurement.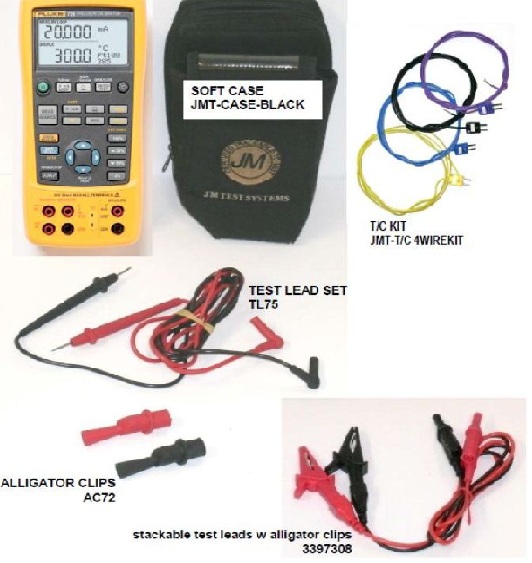 1.1.22 Fluke Thermal Bath
Features:
World's smallest portable calibration baths

Calibrates sensors of any size or shape

Stability to ±0.015 °C

Ranges from –30 °C to 200 °C